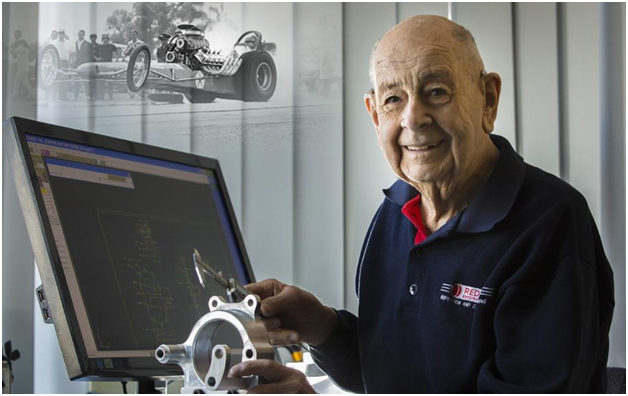 For over 50 years the word 'Redline' has been synonymous with 'success'. We have forged a reputation for our various machining services which provide competitive manufacturing solutions. Also in particular our CNC Machine components have capabilities for precision and accessibilities.
The Redline legacy began in the 1960s when the legendary record breaking Drag Racer Eddie 'Big Daddy' Thomas turned his passion into a business. The Eddie Thomas Speed Shop and the Speco Thomas brand of racing equipment was renowned for its quality and industry specialisation. After founding Redline Engineering in 1969, the company has since spent the last 50 years developing skills in precision component manufacture. This utilises the latest technology and CNC machinery equipment gaining a preferred supplier status locally and internationally.
Eddie thomas was an Australian drag racing legend who passed away on 9/11/17, aged 99. He was a pioneer of the sport and a hero and inspiration to many. We are so proud that his memory will live on at Redline Engineering.
Riverside Dragway
Eddie Thomas made his name at Riverside Dragway where he helped pave the foundations for the drag racing we see today. In 1964, he broke the track record by setting a time of 10.74 seconds and reaching speeds of over 130 miles p/hour. However, this was only the beginning of Eddie's achievements. In 1966, he was also the first person in Australia to surpass 9 seconds by setting a time of 8.89 seconds at Surfers Paradise International Raceway on April 4.
Eddie's son, and current Redline Engineering Managing Director, Ken Thomas has since continued his family's success by claiming dual Australian national speedcar titles in 1997/98 and 2000/01. This drive, passion and high performance is evident in Redline Engineering's Machining services as we continue to aim high and achieve only the best results.


Australian Motor Sport Hall of Fame

On March 15, 2019 Eddie's legacy was all but guaranteed with the announcement that he was to be inducted into the Australian Motor Sport Hall of Fame. This initiative was established by the Confederation of Australian Motor Sport (CAMS) to "give recognition to those who have brought greatness to motor sport in all its many disciplines, over the entire history of the sport in Australia."
In 2019, the Australian Motor Sport Hall of Fame had 30 inductees who spread across multiple facets of the sport. This includes members from motor racing, motor cycling, rallying, off road, karting and speedway. The Hall of Fame Committee responsible for inducting members includes many respected members of the sport and experienced journalists who have strong knowledge of the motor sport history and its participants.
The past recipients in the Hall of Fame for drag racing include Graeme Cowin (2018), Jim Read (2017), and Ash Marshall (2016). All of which are highly respected and inspiring individuals in the drag racing community.
About Us

In 1969, Redline Engineering was initially based out of Moorabbin. We are now situated in Mordialloc, a South Eastern suburb of Melbourne. Our advanced manufacturing facility supplies precision CNC Machine components and assemblies worldwide, as well as Machine Services in Melbourne.

As a family owned and managed business spanning three generations, our specialist knowledge in precision CNC Machine component manufacturing and assembly manufacture spans many decades. This is a key foundation of the ongoing strength and competitive success of our business.

Redline Engineering is proud to be the preferred contract manufacturer for industry leaders in aerospace, defence, medical, rail, transport, mining, and power and wind energy industries.

If you would like to get in contact with us, click here.